Yesterday I attended a presentation by Hope In The Cities/Virginia Center for Inclusive Communities at VCU called "Unpacking the 2010 Census: The New Realities of Race, Class, and Jurisdiction". It was an interactive event for the nearly 200 or so attendees, mostly workers from the nonprofit and educational sectors. There were the instant audience response devices that have been deployed more and more at community meetings, most recently at the Mayor's public budget meetings.
Speaking of Mayor Jones, he stopped by to announce a new commission that focuses on eradicating poverty, but the main event was Dr. John Moeser, a longtime fan of the neighborhood and Richmond in general, who gave a lecture with Powerpoint called "An Overview of Poverty, Race, and Jurisdiction in Metropolitan Richmond".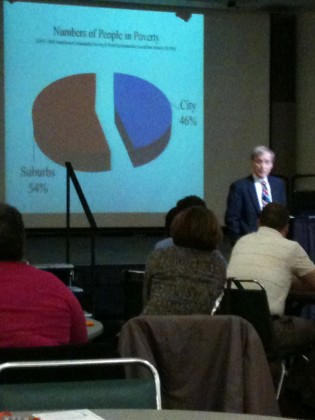 While he spoke mostly to the historic and endemic causes of overall poverty in Richmond, as an aside he did point to one of the local findings from the 2010 census- that poverty has increased in Oregon Hill. Why? – because college students, who are counted and generally produce less income than the national poverty measure, have increased their number in the neighborhood.
What's the overall poverty rate of Richmond City residents? 22%
There are some other findings and topics for discussion that I hope to get to in the comments or future posts.