Oregon Hill, like much of the Richmond area, is still cleaning up after recent storms. The downed trees on S. Cherry Street in front of the William Byrd Community House in the picture below were removed this morning.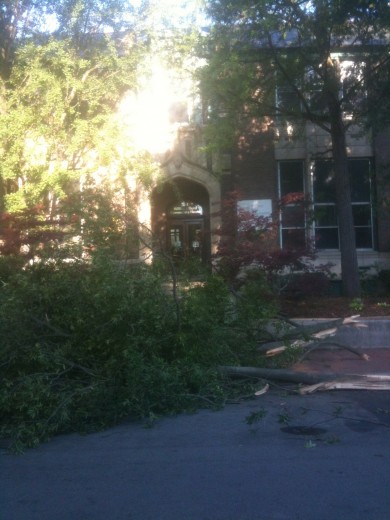 Thankfully, it seems like the neighborhood did not suffer as much damage as other places. Still, Pescados restaurant suffered a power outage along with some residential blocks. There are still a few houses on the 400 block of S. Laurel that do not have power.
At the same time, residents are getting ready for expected crowds for tomorrow night's 'Fireworks on the James'. A couple of notes on that-
Fireworks to begin at approximately 9:15 PM
Enjoy music simulcast on WRIR-FM, 97.3 during the evening.
In case of rain, the event will take place on Thursday, July 5th.