This morning an Italian-Japanese conglomerate, Fuki-Trani Ltd., announced plans for an exciting new riverfront project, a high-speed cable car crossing the James River. The preliminary design would have one side of the crossing originating at a station on a portion of Oregon Hill near the Overlook townhouse complex, with heavy duty cable going over the James River and the Belle Island park to the other terminal station on top of the Riverside Apartments building on Riverside Drive on the south side.
Example of gondola lift/skyway at Sulphur Mountain in Alberta, Canada: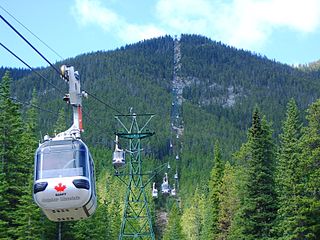 Richmond Mayor Dwight Jones and Councilperson Parker Agelasto were beaming as they briefed a few media members on the outline of the deal in the first floor of City Hall late last night. "This represents a fantastic opportunity to leverage Richmond's natural assets and create jobs," said Mayor Jones. "What a beautiful way to connect the opposite sides of the James River, the City, and the 5th District," added Councilperson Agelasto.
The amount of investment by the Fuki-Trani group is estimated at between 8 and 10 million dollars, and the City of Richmond is putting in $2 million into the project initially. Dominion Resources had to approve of the project in advance because it will use airspace above their riverfront headquarters facility. The Oregon Hill station will require zoning changes as it adaptively re-uses the land where Overlook construction ceased and there are a few town home foundations. (Residents may recall at one point a developer from Cleveland was considering them a few years ago). According to preliminary plans, the station would operate from 6 am to 11 pm and employ 2 to 3 people with a small walk-up snack bar. Rides would cost between $5 to $8, though a commuter/student discount may be possible. Some nearby residents along the Oregon Hill Parkway have already expressed concern for noise from the station.
Fuki-Trani spokespeople offered few other details at this time, though they did say that they were already looking at possible future skyways in other parts of Richmond. Here is some additional information on gondola/cable car lifts, courtesy of Wikipedia:
While gondola lifts are traditionally used for ski resort purposes, in recent years they are finding increased usage in urban environments as seen in the installations of the Metrocable (Medellín), Portland Aerial Tram, Metrocable (Caracas) and Cable Aéreo (Manizales). The Metrocable systems in Medellin and Caracas are fully integrated with the public transit network which provides passengers the ability to seamlessly transfer to the local metro lines. London, UK, has built Emirates Air Line (cable car) for the 2012 Summer Olympics.
In terms of urban gondola systems for the future, TransLink in Metro Vancouver has proposed to build a gondola up Burnaby Mountain to Simon Fraser University in an announcement in September, 2010.
In late 2012, a widespread aerial gondola system was proposed for Austin, Texas in an effort to expand mass transit options in the rapidly growing city.