VCU officials held a small press conference yesterday to give local media a few updates on their new Institute for Contemporary Art building, which is very close to finishing construction.
While work has been going at a furious pace, a planned "soft opening" and "media walk through" for this weekend was sadly postponed at the last moment.
"The building's exterior and interior are almost done, but there is still a lot of dangerous equipment and scaffolding around, and therefore still not safe for visitation", stated one of the smiling, new ICA directors, "We are really looking forward to showing people what we are so excited about, but we need to wait a just little bit longer." Previews of the ICA have already been featured quite a bit in various area publications.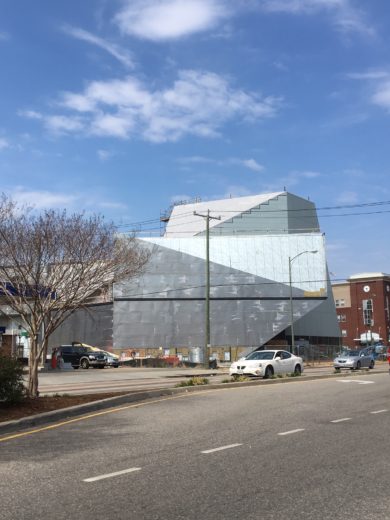 While the building and site remain strictly off-limits for now, students and interested members of the public can attempt to reserve tickets for some of the future opening events. A student art exhibit on 'The Potholes of RVA' as well as a new student documentary about car crashes will be available for viewing. For VIP visitors and donors, there will be a special basement tour and outdoor movie, Artplace (the highly anticipated sequel to 2016's Workplace).
When asked about the current fundraising situation for the Institute, officials would only state that there is a 'spring break hiatus' right now for the campaign as fundraisers tour basketball facilities at the University of Hawaii. When pressed about the promised green building details of the construction, a spokesperson said that while the ICA will not be 'Platinum LEED' as initially promised, it should be able to secure 'Lead LEED' status without problems, as long as a certain amount of the natural granite from the site can be recycled for planned, new basketball facilities.