There is documentary being filmed for one of Oregon Hill's most infamous progeny and Richmond's most famous drag queen, Donny Corker, aka 'Dirtwoman.' In order to raise funds and capture memories, the Sound of Music studio, now in Scott's Addition (1710 Altamont Ave.), will be holding 'Dirtwoman Toast' on Sunday, May 21, at 7 pm. The admission cost is $10.Part of the proceeds will go to producing the documentary and part of them will go to Corker to help defray medical cost hardships.
Excerpts from recent Style article:
Everyone over a certain age has a Dirtwoman story. Corker's antics as Richmond's most well-known 400-lb. drag queen are legendary, from the 1993 pin-up calendar to running for mayor, to his years as Mrs. Claus at the annual Hamaganza. Just as noteworthy is Corker's pre-Stonewall role-modeling: He's been unabashedly out as gay since he was a teenager.

In the works is a documentary about Dirtwoman that began 15 years ago on the occasion of Corker's 50th birthday with an event at Caffeine's featuring go-go boys, drag queens and people sharing their own Dirtwoman tales. Now at 65 and with major health issues, Corker's life story is on track to finally be completed by local video producer, Jerry Williams.

"This is the culmination of my 45 years as a video producer and director," Williams says of the passion project. "I've never had a story that I was willing to commit a year of my life to making, but this is it."
…
For those who missed Dirtwoman's glory years, the Toast is also an opportunity to hear anecdotes from a life so colorful that even John Waters' biggest star, Divine, was a fan. And for those curious about how the name Dirtwoman originally came about, let's just say it involved some inappropriate behavior in the back seat of a cop car and leave it at that.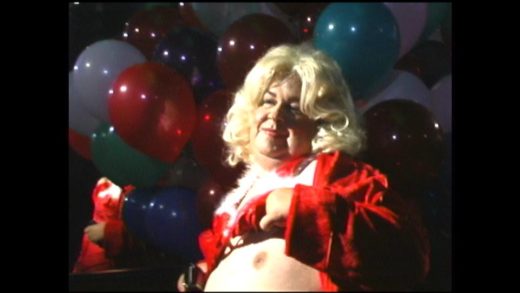 From the FaceBook event page:
The TOAST is being held to compile stories from Donnie's fans for the documentary. Everyone who attends will be invited to spend a few minutes on stage with Donnie to pay tribute and share their favorite memories. There will also be a special "private" studio for people who would prefer not to go on stage. People are encouraged to bring any pertinent photos or other memorabilia.
To have an idea of timing, Williams requests that people who want to speak, please email him at TVJerry@TVJerry.com.