From the email announcement: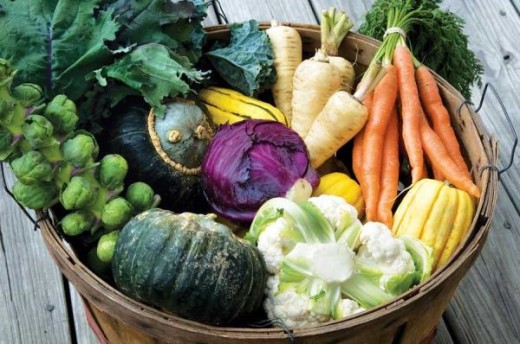 Autumn Food & Flowers
Roast chicken with apples… Sweet Potatoes and butter… Green beans in garlic and dill… Eggplant parmesano OR baba ganouj… Blackberry cobbler OR smoothie with maple syrup and cinnamon…
Plums, Apples, Tomatoes, Peppers, Shroomses, Shallots, Garlic, Collards, Cabbages, Kale, Chard, Late summer squashes of every ilk and shape.

Looking for something specific?
Use our Product Search

Vendor Amy's Organic Garden has a great blog full of recipes.
Amy's Recipes! Enjoy!

FOOD NEWS: USDA Awards Over $52 Million in Grants to Grow Organic and Local Food Economies
Virginia received a total of $1,178,409 from three programs to fund 18 projects across the state: 7 projects received $623,923 from the Farmers Market Promotion Program (FMPP). 8 projects received $353,064 from the Local Food Promotion Program (LFPP), and VDACS received $201,422 from the Federal State Market Improvement Program (FSMIP). Click link above to read full release.

Got questions?
THE MARKET MAP will help you find the Market manager at the BHM Information Tent.

Bread, baking…mmm
Margie's Comforts Home Bakery
Sub Rosa Wood Fired Bakery
Wineberry Bakery


Nonprofits@the Market
Boaz & Ruth
Capital Area Health Network

For Kids
Face Painting with Louis
4 – 6 pm
Bark & Leaf Rubbings with Emily:
4 – 5:30 pm
Corn Hole Toss Game – All Day
in the Grace Arents Community Garden

Next Week
Meet the Interns
Fall Simmers, Sauces & Sautes
Oct. 14 – Food for Mama is Food for Baby
Oct. 21 – National Food Day @ the Market (a little more info below)
Oct. 28 – Closing Day Deals & Raffles!

SNAP @ THE MARKET
Use Your Credit, Debit or SNAP EBT Cards!
The $10 Student Deal is now for
Faculty and Staff, too!
Show your University ID to a participating vendor (Agriberry, Origins Farm, The Byrd Farm, Epic Gardens, Tomten Farm) and ask about their deal of the day!
Visit byrdhousemarket.blogspot.com
for directions and more.

SAVE THE DATE: Oct. 21
National Food Day at Byrd House Market! Celebrating food and the people who grow it, pack it, drive it, sell it, store it, cook it, and serve it to us at Byrd House Farmers Market, in the 3rd annual collaboration with Virginia Commonwealth University's Wellness Resource Center. Details for the week coming soon!
Real JUST Food @ BYRD HOUSE MARKET
Take this quiz: 14 Questions That Could Save Your Life and the Planet!