Of course, for anyone who does not already know, this is the weekend of the Richmond Folk Festival. I am always surprised by how many locals still do not understand that this is not folk rock as in Bob Dylan, but folk musics and traditions of all types from all over the world. It's an incredible chance to grow your musical tastes and it happens right next to Oregon Hill. Yes, there are community concerns about how Venture Richmond is using the Folk Festival to push inappropriate riverfront development, but that should not stop people from enjoying what the festival itself has to offer.
And that's not all that's happening this weekend…Whurk Magazine, 'Virginia Cultural Review', has a nice article on the Richmond Zine Festival, which takes place this Saturday at the Main Public Library, Oregon Hill's City public library branch. (One footnote- although the festival is billed as the ninth annual one, Throttle Magazine started and sponsored a few earlier renditions of the Richmond Zine Festival years earlier)


If that is not enough, Oregon Hill's Vinyl Conflict record store is co-sponsoring the Richmond Record Fair at Hardywood Brewery on Sunday. The description has "20+ tables spanning all genre, tones, culture, subgenre, sub-sub-genre, feedback, texture, vibrations and libations". It includes a concert by local band The Milkstains.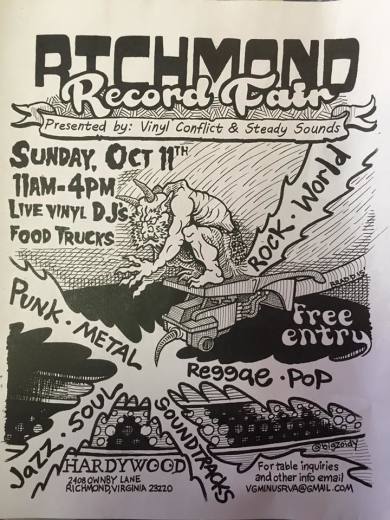 Here's hoping that everyone has a great weekend.