From the FaceBook event page: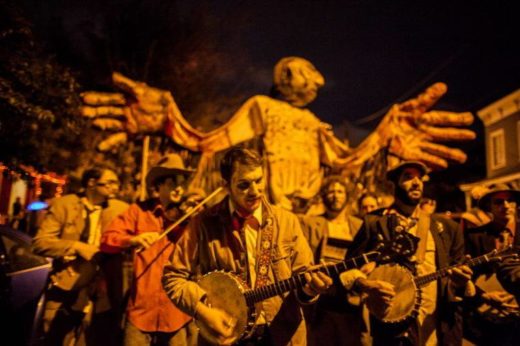 Richmond's 11th Annual Halloween Parade presented by ALL THE SAINTS THEATER COMPANY is around the corner!

A Funeral March for Demons of the Day: the Goddesses and Elements are here to wash them away!

Monday, October 31st
7pm sharp
Monroe Park (near VCU Campus)
Richmond VA

Guys and gals and all non binary conforming pals, join us in this all inclusive Richmond tradition! Dress up in a costume, make your own giant puppets or flags, and/or volunteer to assist withour giant puppets, flags, props and more!

What are the demons of the day?! There are many! And they are very very spooky! All the Saints sees racism, extraction, corporate greed, bombs, droids, war, hunger, privatized education, and police brutality batting the goddesses of our ancient consciousness collective and ancestors using the elements as the one true tool, and Mother Earth and her green medicinal herbal allies as a way to defeat these demons!

We will make one huge "demon of the day" puppet which we invite folks to write their demons of the day on fabric and attach it to the puppet on site before parade begins. We will find a place to burn the demon of the day of the shadow of the day of the dead. We will make many larger than life 3 person goddess puppets and will have an army of burning skeletons. We will color code the parade separated by EARTH, WIND, WATER, and FIRE. The space between or the etheral will be the section for all the demons of the day!

We need music, bike ushers, and folks to help make puppets!

Free puppet making workshops starting Thursday October 6, and every Tuesday and Thursday to follow. First workshop at the Wizard Shoppe. 1607 Hull St.

We will post address for the later workshops at a later time.

Join us for fundraiser for this years parade at Tuesday October 25th for potluck and cabaret and puppet making at the Earth Folk Collective!
https://www.facebook.com/events/177042846062762/