Concert is happening this Saturday at 2 pm in the Gellman Room at the Main branch of the Richmond Public Library.
From the FaceBook event page: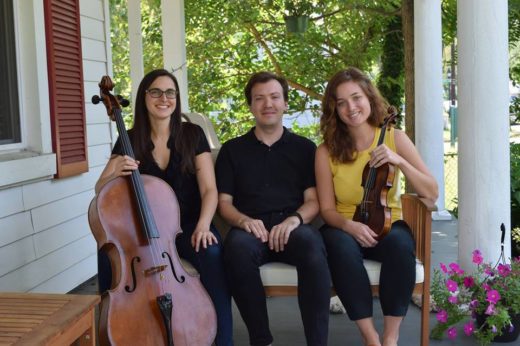 The Thales Piano Trio is proud to present music written by three women from three different countries and eras: Jennifer Higdon, Rebecca Clarke, and Clara Schumann.

This concert is FREE and open to the public!

Thales Piano Trio
Ellen Cockerham Riccio, violin
Sara Bennett Wolfe, cello
Daniel Stipe, piano

The Thales Piano Trio has performed as part of concert series' across the Eastern seaboard, at venues including Washington College in Chestertown MD, Trinity Lutheran Church in Richmond VA, and St. Paul's on the Green in Norwalk CT. In addition, they have presented house concerts at numerous private residences.

Now in their second season as an ensemble, the Thales Piano Trio is the product of more than a decade of musical collaboration between Ellen, Sara, and Daniel in all possible duo combinations: Ellen and Sara won a fellowship to study and perform as half of the Heiligenstadt Quartet at the Brevard Music Center; Sara and Daniel performed sonata repertoire together at Princeton University Chapel; since meeting in 2013, Daniel and Ellen have shared the stage frequently, including as part of the Belz-Parker Artists Ascending Concert Series in Memphis and the Forest Hill Recital Series in Richmond. The trio is named for the famous mathematician Thales (THAY-lees) of Miletus. Thales' theorem states: If A, B and C are points on a circle where the line AC is a diameter of the circle, then the angle ∠ABC is a right angle. The musicians are thrilled to be "completing the triangle" by joining together to form a trio; as such they found Thales' name particularly appropriate.