Why is the Oregon Hill community news site posting about Chesterfield County's water?
You probably still need to read this week's Richmond Free Press. As with last week's article on Monroe Park, reporter Jeremy Lazarus is supplying some valuable insight to how this area (dys)functions. For some mysterious reason, the following front-page article does not appear on the newspaper's website, but here are photos of the printed version: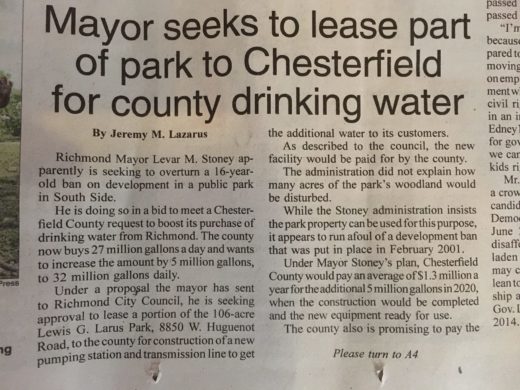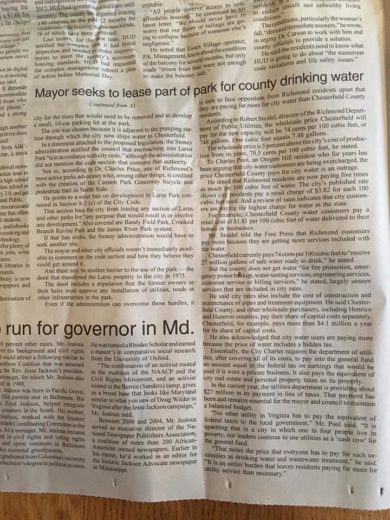 Please take the the time to read the second page, which includes hard-hitting quotes from former Sierra Club leader Dr. Charles Price on this attempted usurping of a public park as well as from Laurel Street neighbor Charles Pool on the City's regressive water utility fees.
Although the Richmond Free Press article does not mention it, some neighbors are also speculating about how Chesterfield County might resell their 'bargain' on City water to Niagra Bottling LLC. Is City of Richmond not only forced to provide Chesterfield Co. water at a fifth the cost that Richmond customers must pay, but also subsidizing cheap water for the Niagara Bottling LLC? Are we really going to be damaging a Richmond city park to build a water facility so that Niagara Bottling Company can have cheap water?!
While Oregon Hill is not in Chesterfield County, our neighbors continue to keep an eye on local water issues and hope more media like the Richmond Free Press does the same.