The American Civil War Center at Tredegar Iron Works is hosting 'The Foundry Market' from 12 pm to 4 pm this Sunday (and also June 11).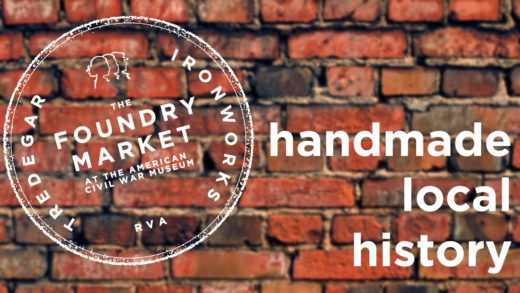 From event description:
The American Civil War Museum's Foundry Market is an artisan craft fair with an emphasis on handmade, local products. We'll have vendors from across the state, demonstrations of craftsman at work, and food trucks.

Bring the whole family down for a Sunday at Historic Tredegar and imagine what our bustling ironworks might have been like 150 years ago.

PARTICIPATING VENDORS:
Beego Handmade
Flourish Creative
Grid+Love
Liberatus Jewelry
Matthew Pellman
Morris and Norris
MudLOVE
New Custom
Nicholas Creek Forge
PaperFreckles
Paper Rose
Petite Shards Productions
Renan Banjos
Robin's Egg Jewelry
Ruby Belle Adornments
Sew Brave Designs
The Bird & Elephant
The Timbered Wolf
The Wild Wander
thimbleberry

….and more!